10 baffling reactions to pregnancy announcements
There are certain things you may expect to hear from your nearest and dearest when you announce you're having a baby. And some things you definitely DON'T expect...
1. The total mystification of fathers
My dad: "Oh! Right. That's, err, that's... Well done. Well done."
"My dad was silent for a little while, then ignored it completely and started talking about sheep (he was a farmer). He doted on my daughter once she showed up - I think he just didn't know what to say!"
2. And the totally unfazed
"45 years ago we were telling my dad that I was pregnant. We were due to be married six weeks later and weren't sure how Dad would take it. My fiance kept trying to say the words 'we are pregnant' but used so many euphemisms about 'surprises', 'additions', and 'news rather sooner than you might have hoped' that my very blunt Northern dad finally said, 'You've got her up t' duff lad. Get the bloody sherry out!'"

3. Those in denial
My boss (incredulously): "What, you?"

Me (beaming with the joyous news): "I'm pregnant, Mum."
Mum: "No you're not."
Me: "Yes I am."
Mum: "No, you're not."
4. Partners who are overly proud of their own fertility
Husband: "My junk works!"

"When I told my partner I was pregnant we were pretty shocked! Once we got over the shock we, um, did the deed... Afterwards, he stood up, posed like a bodybuilder and pronounced 'I'm a man'. He was 42!"
5. And those who clearly haven't been paying attention
From my husband: "Right, ok. Are you sure you haven't seen my glasses?" ...<reappeared from the porch> "You're what?"


Husband: "I'm glad we bought a dishwasher."

6. The inexplicably confused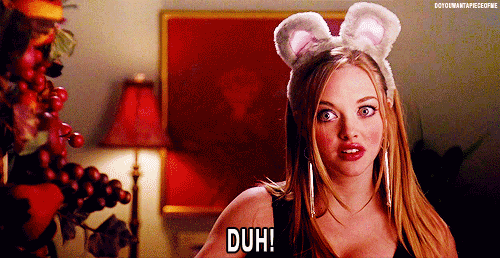 My mum: "My goodness! Who's the father?"
Me: "Well, you know that chap I've been with for 15 years and married 5 years ago?"
"The best response when I announced I was pregnant was 'With a baby?' No. No. I'm pregnant with some cheese."
7. The that's-really-none-of-your-business comments
"A colleague of mine got 'Was it planned?' and such is the joy of open-plan offices that I heard her answer: 'No, we were trying a new brand of condom and I've put a bad review on Amazon. Or it might have been my husband's fingernails, I warned him to cut them. Now sod off.'"
"My mother, when we announced baby number two was on the way, said: 'Oh dear, I do hope we're not going to make this an annual event!'"
8. The oh-well-THAT's-all-right-then reactions
"My lecturers, when I told them I was pregnant unexpectedly at the start of my second year: 'Oh thank goodness, we thought you were going to say you were transferring to a different course!' Their reaction was the best and they totally supported me the whole way through."
"My cousin announced she was pregnant the night before her wedding. Our rather traditional aunt managed all in one sentence: 'Congratulations, that's wonderful! Your poor mother!'"
9. The joys of a non-judgemental nan
"My beloved nan, in her nineties (I was in my late twenties and engaged to be married) said, 'oh you naughty, naughty, naughty girl!' Followed by a big cuddle."

10. The timeless wisdom of children
"When we told our eldest son, aged 12 at the time, that we were expecting baby number four the following July, he replied, 'God, it's just mating season in this house.' All four of my children are summer babies."

Our son, upon being told he was getting a little brother: "I wanted a digger."
Pregnant? Congratulations! Download the Mumsnet Pregnancy Tracker for information, advice and support at your fingertips every step of the way.
Liked this? Try these:
Last updated: 2 months ago